Have you ever had this feeling that you want to design and build something to put in your city? HAMAJA is the application to do so! With it, you can design and build whatever you want and place it wherever in the city you desire. What you build is set within a digital layer of that place, granting the opportunity to be watched by anyone using HAMAJA while passing through that spot. This relation goes beyond just a visit and gives you the permission to interact with others and their work of art. In other words, HAMAJA is considered a digital layer built by the citizens for their city!
To know more about our application, please follow HAMAJA's story below.
In the beginning, the concept of "Right to the city" must be introduced. "Right to the city" was proposed by Henri Lefebvre and David Harvey. It continued by the rising importance of concepts, such as citizenship, citizen-based urban design, consequently rights to both changing and using the public space, which leads to social practices. While these concepts are considered basics of living within a city, in many cases these rights are lost and need to be restored.
In addition to restoring the rights to the city and changing and using the public space, our other goal is to create opportunities by which the chance of engagement would increase. We want to achieve engagement in relation to the city on two scales. On short-term engagement, citizens spend their free time in the city and urban spaces and they lose the sense of time in the process (Flow). The long-term engagement results to the sense of belonging and being active in urban fields. While the two scales are different, they are both needed for the optimum function and engagement of a certain place.
Moving on to the next subject, we feel the need to give a definition of the application's name, as it was one of our main concerns. HAMAJA was named in hope of a clear meaning through which people could connect to the application and to their urban space immediately. The name of the application, HAMAJA, was created out of a combination of two words, HAMA and JA. In Middle Persian, "Hama" refers to the "we" pronoun and in Persian, "JA" is referred to a place.
Our main goals throughout this project were set as below:
To increase the human relation with the city.
To turn spaces and non-places into places.
To increase the social interactions within urban spaces.
To create entertainment in the urban spaces.
Within a technological context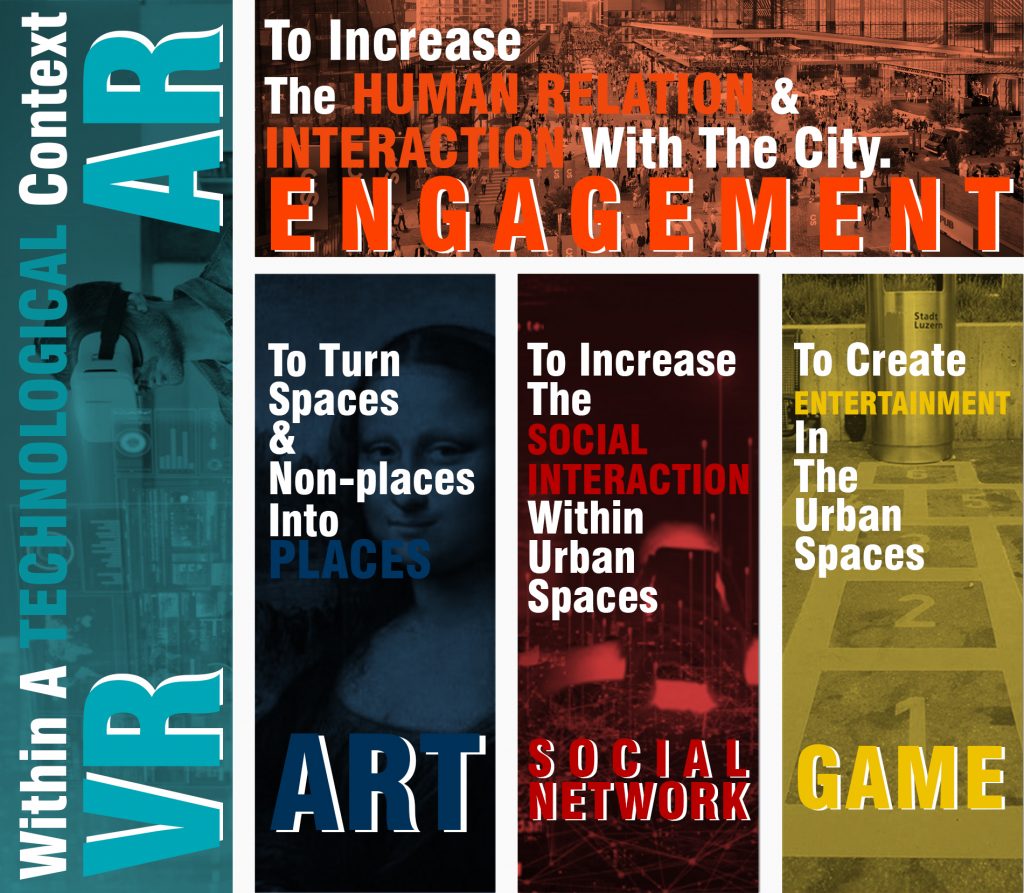 Considering what has been said, our pathway includes the turn of spaces (unlimited borderless object and territory without any barriers) and non-places (places without any determinations and with no priority to other spaces) into places. "Place" is created through a process of attributing meaning and function to a certain space. As people try to cognify their identity in relation to these three concepts of spaces, places, and non-places, they are separated into citizens and non-citizens.
Our application is set to create places through the use of artworks. In other words, citizens will have the opportunity to create their own art for that specific space to turn it into a place. But why did we choose artworks to do so? Artworks have the capacity to turn a space or non-space into a place. For instance, after the creation and presentation of Banksy's work, each of his pieces changes the nature of their space, form an unimportant space into an important place for the users. Once everyone in the society, regardless of their artistic skills, has a chance to create and present their own unique work in urban spaces, they will be able to turn that space into a place. This point of view towards the concept of art can blur the boundaries between the artist and the people, which is the fundament of public art.
To this point, we have the individuals who will create artwork through our application for their city. But we felt the need to connect this group of people and these artists and social media is our key to do so. Social media is a virtual and online "space," but it can resemble public spaces in the physical world. Our aim is to enhance the role of social media as an engaging public space, and how to encourage users' participation.
In addition to all the concepts and tools, the concept of the game needs to be introduced as our application must be considered a game at its very core. The game can be used for overcoming problems and motivating the sense of identity of their players. Each game has a specific space. Among some of them, the game space is not limited to the virtual space of the game's atmosphere, but it can go as far as the living space of human's everyday life. These games can occur in the urban space and create their own individual character as part of human life, as it happens in HAMAJA.
Lastly, technology was considered as our basic context through which all we wanted could come true. The presence of technology in today's life has made lots of changes. Abilities which technology gives the human differs from man's usual experiences and is changing our conceptual and perceptual mindsets, expanding them day by day. Augmented reality is added as a layer to reality. In other words, not only the human connection to the real world and the place is not broken, but the augmented pieces add to space. This technology can define new forms of communication and interaction between its users and urban spaces and provide a new point of view towards the city.
Hence, we decided for our product to be an augmented reality application (technology) functioning both as an urban game and a social media. Providing the opportunity for all citizens to work smoothly with some modules and create their own objects to place in an urban space (practice) was one of our important conclusions.
Features of the game:
a chance for both creating and presenting an artwork within the urban space for all citizens
short period of creation
a chance to choose among the many choices of modules
the opportunity to modify the existing objects of the real space using the modules
Observing other users' work of art
The ability to exchange comments and likes about other's works and also following them for more of their works.
Interaction with new people for a chance to create mutual artwork
the opportunity to alter the art sharing space into a significant place in the city
different levels of module accessibility (based on the scoring system of likes and comments)
multiple kinds of achievement
different goals of instruction based on the cultural events
periodical, divers, and short term game systems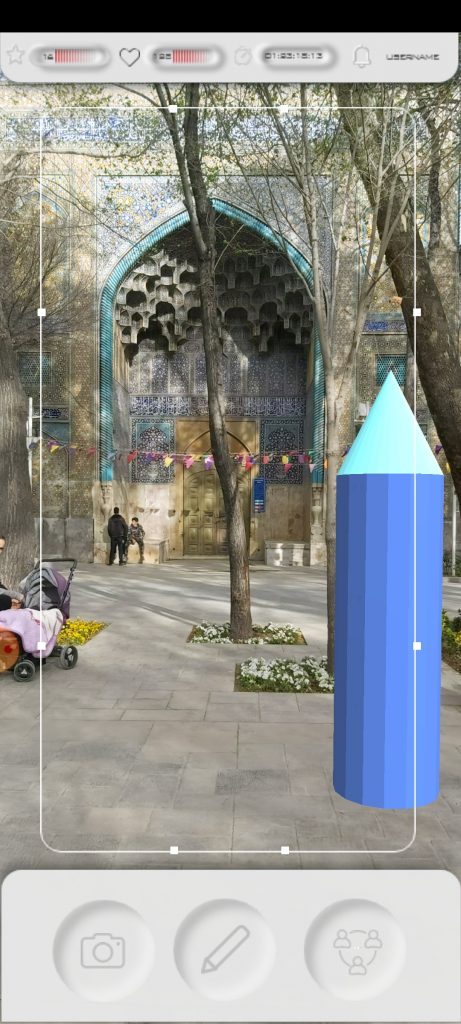 This application has the potential to be performed in many different themes and parks, including the competing aspect, art gallery, or even the everyday normal activity of passing a street, with specified boundaries all around the city, each with a unique story and its own special modules. This application can be modified to cultural aspects of different social groups, functioning with high quality for all its users.